---
East/West Bridge Publishing House
GGWeb Books & Publications
Graphic Gold Webmasters
---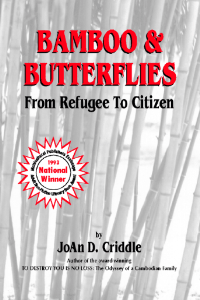 Bamboo & Butterflies
From Refugee To Citizen
by JoAn D. Criddle
---
East/West Bridge Publishing House
P.O. Box 211412
Auke Bay, Alaska 99821-1412
U.S.A.
1998/2nd Edition
224 pages + 8-page glossy photo insert
5-3/8" x 8-1/2" (137mm x 216mm)
paperback
$14.95 US plus shipping & handling
Library of Congress Card Number: 92-70276
ISBN: 0-9632205-0-0
---
Bamboo & Butterflies continues the incredible odyssey of Teeda Butt Mam and her remarkable extended family, as they journey From Refugee to Citizen – a poignant, often humorous glimpse into what it is like to start from scratch in an alien land. Their successes and failures echo those of all newcomers who must mesh vastly different cultures as they reach for the American Dream.
---
"BAMBOO & BUTTERFLIES offers a unique glimpse into the Americanization process. ...Provides insight into some of the humorous, frustrating and...difficult situations newcomers face when confronting their new homeland. ...Well worth the read not only because it is inspiring (it is!) but also because it causes each of us to look at our neighbors with a new perspective – one that is inclusive rather than exclusive."
– Capital City Weekly, Juneau, Alaska

"Whether you are looking for a 'good read,' a deeper appreciation for your own ancestor's adjustment to America, or just an increased understanding and empathy for newcomers, you'll discover it in these pages."
– Linda C. Wathne, journalist

"Some might think that this book is about cultural difference, but for me it is about human sameness. It is about who we are at our core. ...I found serendipitous gifts of insight and wisdom in these vignettes that will serve me well as I walk gently through this life."
– Marjorie Knowles, Educator & 2nd VP International TESOL

"Their first experiences in America are recounted with great humor and poignancy, offering a unique perspective on what it is like to be strangers in a strange land."
– Recorded Books, Inc.

"Outstanding contribution to an area related to Educational Studies."
– American Educational Studies Association

"Fascinating as well as informative. Its greatest value lies in the opportunity it presents Americans to look differently, more appreciatively, at our own way of life and that of others."
– Tom Squier Looks at Books

"...should be on the multicultural reading lists in our schools. ...Criddle's first work, To Destroy You Is No Loss, has been touted as a 'Cambodian Diary of Anne Frank' and should be read in conjunction with Bamboo & Butterflies, if possible."
– Multicultural Education Magazine, N.A.M.E.

"...Thought-provoking and good reading for the general public or for classroom situations."
– Southeast Asian Refugee Studies Project, UofM
---
ABOUT THE AUTHOR
JoAn Dewey Criddle, mother of five and grandmother of twelve, grew up in northern Utah. She and her husband live in California but travel extensively throughout the world. Her own mother claimed that since childhood, JoAn's motto has been: Tell me something I've never heard before; And show me something I've never seen before.
With a storyteller's skill, Criddle explores the personal in order to illuminate the universal, creating fast-paced books that are both authoritative and highly readable. For more than eighteen years, she has been actively involved in minority and newcomer issues. Her focus as an author, lecturer, consultant, and advocate is to reduce prejudice and increase understanding among people from differing backgrounds. She has been a frequent keynote speaker and workshop leader at state, national, and international educator conferences.
Bamboo & Butterflies is the author's second book to focus on the refugee experience through the eyes of one extended family of outstanding Cambodian Americans. Understanding this family's adjustment, we can gain a greater appreciation for our own relatives who faced the difficulties of switching homelands and/or accommodating to the dominant culture.
Criddle probes the dynamics of family relationships as the "1.5 Generation" moves to adulthood. Many in this generation of young Americans – who came to this country as children or were born here to immigrant parents – must make marital, career, educational, and cultural choices unlike those their older relatives faced. How do they blend two vastly different cultures to incorporate the best, not the worst, from each? How do successful multigenerational families deal with these differing expectations, values, and goals? How do newcomers cope with prejudice and discrimination effectively? What strengths do immigrants bring to this country, and how do newcomers benefit America and Americans while reaching for their own version of the American Dream? Finding exemplary role models and discovering answers to these and similar questions intrigues the author.
ABOUT TEEDA
Teeda Butt Mam, mother of two, is now a United States citizen. Mam works in the computer software industry and lives in California's Silicon Valley. She keeps abreast of developments in her former homeland and is actively involved in the Cambodian American community.
Cover photo: R.S. Criddle
Cover design: Jeanne K. Pietrzak
---
To Order Books Directly from the Publisher, Print and Fill Out the Form Below:

ORDER FORM

Name _________________________________________________________________
Street _______________________________________________________________
City _________________________________________________________________
State __________________________    Zip ______________________________
Country ______________________________________________________________


BAMBOO AND BUTTERFLIES                                $14.95 each $_______
                                 AK Sales Tax on B&B  $ 0.00 each $_______

TO DESTROY YOU IS NO LOSS                             $19.95 each $_______
                                 AK Sales Tax on TDY  $ 0.00 each $_______

COMPLETE SET (Both TDY & B&B)                     $32.00 each set $_______
                             AK Sales Tax on Set  $ 0.00 each set $_______

SHIPPING & HANDLING             (within the USA)  $4.50 1-2 books $_______
                                Each additional book    inquire   $_______
            (contact ewbridge@juno.com 800-577-1160 for rates on
                      additional books or international shipping)

                                           TOTAL PAYMENT ENCLOSED $_______

Mail the Order Form along with your check to:
   East/West Bridge Publishing House
   P.O. Box 211412
   Auke Bay, Alaska 99821-1412
   U.S.A.

NOTE: Discounts are available on quantity purchases. Rates range from 10%-50%
depending on quantity.
Contact East/West Bridge Publishing for details:
   TEL: 800-577-1160
   E-mail: ewbridge@juno.com

---
East/West Bridge Publishing House
GGWeb Books & Publications
Graphic Gold Webmasters
---
Copyright © 1995-2009 by Graphic Gold Webmasters. All rights reserved.
---
Web Site design and layout: Graphic Gold Webmasters